Rig moves made in past years in challenging areas of Myanmar have needed help from elephants.
Recently, AMT has provided a comprehensive multimodal solution to one of our valuable Clients :
Scope
-March 2019
-Duration 1 month
-From Yangon to wellsite
-Multimodal transportation: land- river
-Commodities: mounted RIG, control room, mud tanks, containers with equipments, cranes
-Total GW equipments moved: 300 Tons
Land transport
-Road survey
-Loading, lashing of all packages onto 14 x 40' trailers at storage yard in Yangon (3 days job).
-Rolling trucks convoys from yard to loading jetty. Police escort, weight scale.
River transport
-Roll on trucks convoys onto 3 x 800 Tons river barges. Lashing, welding.
-River transport from Yangon to Mandalay, 10 days.
-Transhipment in Mandalay for 3 x 800 T barges (roll off) onto 10 x 80T barges (roll-on) to match declining river draft. Lashing, welding.
-River transport from Mandalay to Weidauk, 7 days.
-Roll-off weidauk Jetty and land transport up to wellsite. Assistance of excavators.
24h/24 tracking during the whole operation, AMT coordinators reporting onboard barges
From Yangon to wellsite, Chin State
Multimodal transportation
Roll on trucks convoys onto river barges
Transhipment from barges onto barges to match declining draft of Chindwin river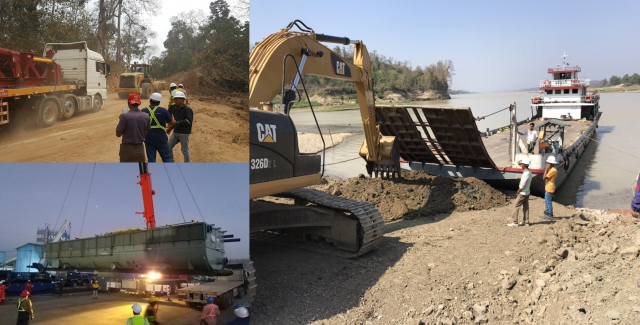 Mr. Cedric Chevalier
Country Managing Director
c.chevalier@amt-sa.com